Niko Seibold is an award-winning saxophonist, composer and Grammy-nominated arranger. Based in Basel, Switzerland, international collaborations have lead him to working with some of the most prolific artists in Jazz, like Vince Mendoza, Jim McNeely, Guillermo Klein, Jorge Rossy, Mark Turner, Bobby Sanabria and Malcolm Braff.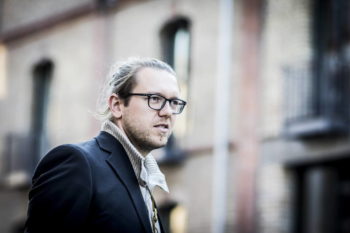 His groups as a bandleader include the multilingual Poetry-Project European Song and his quartet Seibolzing, which was voted finalist to the New German Jazz Competition in 2019. He is the co-founder of the German-Tunisian music collective Beyond Borders as well as the independent music label Hout Records. Niko was commissioned to compose music for the Grammy-Award-winning Metropole Orkest and the Bobby Sanabria Multiverse Big Band, as well as both for his large ensemble groups, Elfton Ensemble and the Niko Seibold Big Band, founded 2017 in New York. Also in 2017, he was selected as one of eight participants among hundreds of applications from around the world for the International Metropole Orkest Arrangers Workshop. Furthermore he is the founder and musical director of tis jazz fest and founding staff member of the Tuscany Jazz Workshop.
Niko Seibold studied at Manhattan School of Music, at Jazzcampus Basel and Staatliche Hochschule für Musik und Darstellende Kunst Mannheim.
His thoughtful and uncoerced compositions feel coherent tell of a distinctive sense of creation and a good feeling for dramaturgy.
Steff Rohrbach, Jazz'n'more, Ausgabe Nr.6/2018
"Seibolzing…[has] what it takes to become a classic"
Hans-Jürgen Schaal, Jazzthetik magazine, New German Jazz Award 2019