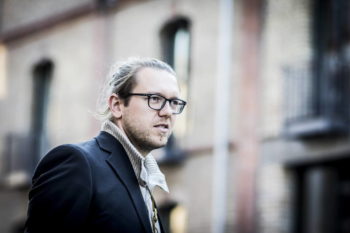 German Saxophonist and composer Niko Seibold is an award-winning musician formerly based in New York City, now living in Basel, Switzerland. Playing in wind orchestras and singing in alternative crossover rock-bands as a teenager, his repertoire as a performer reaches from the American Songbook, Afro-Cuban and Venezuelan Music to Jazz Big Band and mixed large ensemble.
Mr. Seibold has had he opportunity to perform in numerous clubs and festivals in Europe such as the Moods Jazz Club in Zurich, the Transmusical de Rennes and the Couleur Café Festival Brussels. Furthermore he appeared on several festivals in Tunisia with the German-Tunisian Oriental Jazz Collective "Beyond Borders Band". Niko has collaborated with Jorge Rossy, Guillermo Klein and Adrian Mears as well as Brooklyn-Based Hip-Hop/AfroBeat artist Blitz The Ambassador and Tunisian Oud virtuoso Fadhel Mohamed Boubaker. Along the way he received scholarships and fundings from the Siena Jazz Foundation, the Goethe Institute and the Manhattan School Of Music.
In 2017 Seibold put together a powerful ensemble to present his latest works for big band. The group features 17 young and highly talented musicians based in the greater New York area. The Niko Seibold Big Band celebrated its debut concert on 14th of May at ShapeShifter Lab in Brooklyn, New York City. The debut album of his current project, SEiBOLZiNG, which features seven original compositions is about to be released on October 6, 2018 on HOUT records. Renown Jazz Bassist Larry Grenadier states, "Niko has creates music that is both rich in history yet completely modern" and has "made music worthy of deep listening". Other projects as a leader and composer are the 11-piece mixed Elfton Ensemble and the harp/woodwind duo Harpkissax.
Niko earned a bachelor's degree from the Mannheim University of Music and holds a master's degree in Music Performance from the JazzCampus Basel. In the recent past he was studying with veteran Jazz Composer and Arranger Jim McNeely at Manhattan School of Music in New York City. During his student years he has furthermore learned from David Liebman, Mark Turner, Guillermo Klein, Jorge Rossy and Donny McCaslin a.o. Besides his work as a performer and composer he is also the co-founder of the Toskana Jazz Workshop in Italy where he teaches saxophone and improvisation classes as well as ensemble coaching and courses on music theory and ear training.
Mr. Seibold believes in the importance of balance between intellect and emotion, mind and body, inspiration and aspiration in music. His compositional work reflects and stays true to this philosophy.